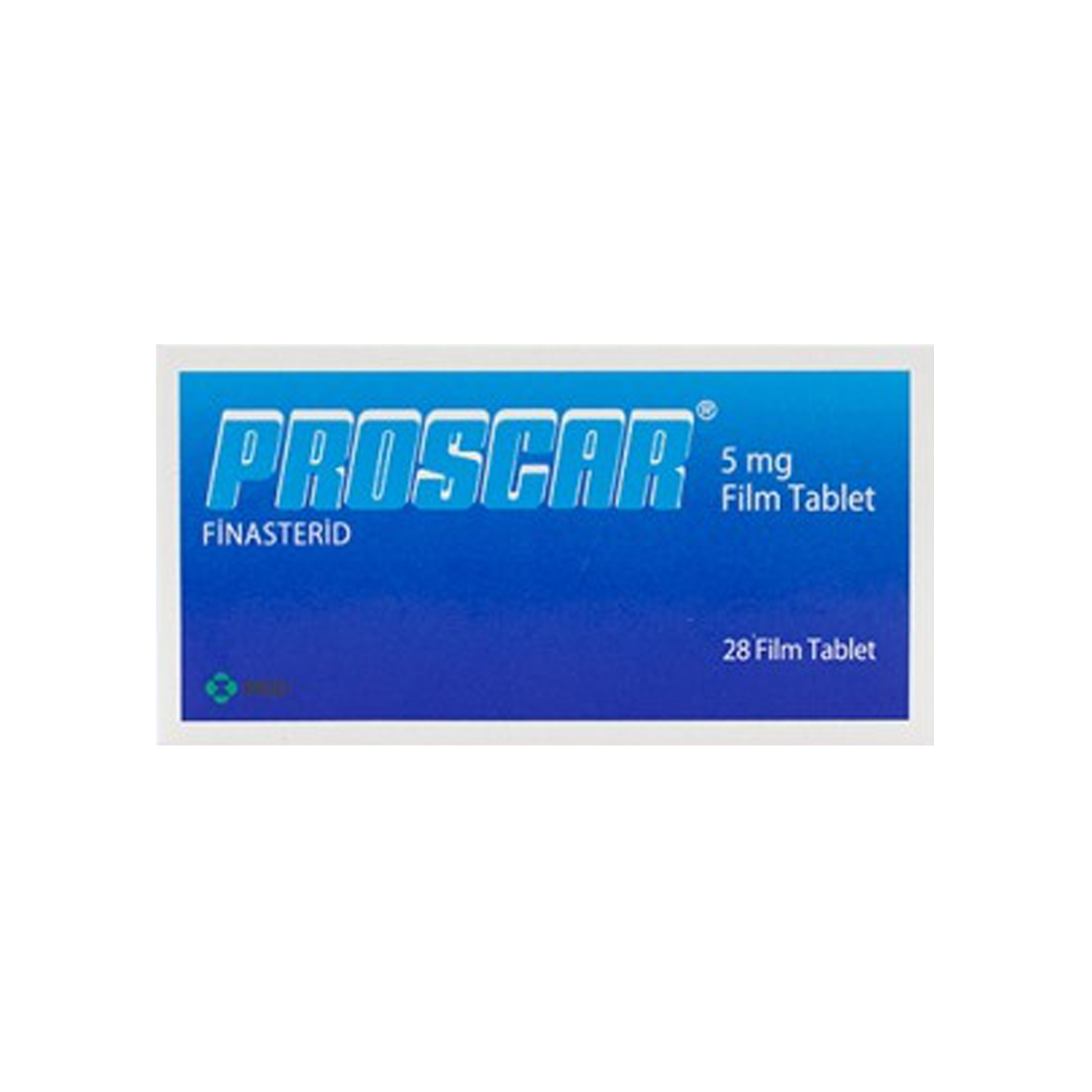 Finasteride (Proscar®)
(US) $24.99
Prostate and hair protection with Finasteride/Proscar
Double action prostate cancer treatment and male pattern baldness treatment comes with the breakthrough drug finasteride dht (also known as Proscar). Finasteride/Proscar's effectiveness lies in its ability to reduce dht (short for di-hydro-testosterone) by acting as a 5 alpha reductase inhibitor.
Product Description
As we grow older, why do we need to reduce dht? Quite simply, 5 alpha reductase is a key enzyme which reacts with testosterone, the key sex hormone, and converts this into DHT. In a chain reaction, high levels of DHT can enlarge the prostate gland, which can lead to the need for prostate cancer treatment. Finasteride's effectiveness as a 5 alpha reductase inhibitor can also help with male pattern baldness treatment, since this is also linked with high levels of DHT.
In short, finasteride blocks DHT -which has been found to be the main source of age-related prostate problems. Use of finasteride dht has been shown to decrease the size of the male prostate by effectively thwarting DHT development.
Finasteride was the subject of an LA Times article, which reported on a "drug recommended to prevent prostate cancer in some older men", adding that "Finasteride may cut the risk for men over 55 who are considered more likely to get the disease, a medical panel recommends".
The medical panel referred to in the LA Times article was the American Society of Clinical Oncology, reporting to the National Institutes of Health (NIH), one of the world's foremost medical research organisations.
The article underlines the unavoidable truth that DHT levels do indeed increase with age (a condition known as Benign Prostate Hypertrophy), hence its resonance with the over 55's.
Finasteride has been heralded as a breakthrough as it's believed to be 70 per cent effective in blocking the most common form of 5 alpha reductase, known as type-11. This in turn curbs the formation of the all important prostate enlargement hormone, DHT, which has been linked to the formation of prostate cancer.
And the risks associated with prostate cancer are all too real. In the US, it ranks second only to lung cancer in terms of death rates from cancer. In the UK, more than 37,000 men are diagnosed with prostate cancer every year, and 10,000 die from it.
Research carried out in 2005 by the American Cancer Society (ACS) adds weight to Finasteride's effectiveness in reducing the risk of prostate cancer. The ACS' Prostate Cancer Prevention Trial found that participants who took the drug were 25 per cent less likely to develop prostate cancer than those taking a placebo. As an added benefit, the trial also appeared to indicate that taking Finasteride could also help with the detection of prostate cancer amongst participants.
This is just one of the factors behind the claim by today's cancer specialists that there is now an effective drug that can cut the risk of men developing prostate cancer by 30 per cent.
Getting to the roots of hair loss
In addition to its role in guarding against prostate cancer, Finasteride has also been attracting attention for its positive role in combating hair loss. In fact, the drug has been approved for the treatment of male pattern baldness by the US Food and Drug Administration (FDA) since 1997.
In the UK, a comprehensive five year study of the Vortex (the top of the head) found that 48 per cent of patients treated with Propecia/Finasteride 1mg experienced a degree of hair growth.
The study also revealed that 42 per cent of participants showed no further signs of hair loss. In addition, the people taking Propecia/Finasteride kept above the baseline for average hair count, compared with the placebo group, for the duration of the trial.
[productalsobuy]
What is the correct dosage?
When used to help reduce the risk of prostate cancer by decreasing the size of the male prostate, a daily dose of around 5mg is recommended. For alopecia (hair loss) a smaller daily dose of 1mg to 2mg can be effective.
Whether you are looking to protect your prostrate and guard against prostate cancer as you grow older, want to address hair loss – or maybe both – finasteride dht provides a tried, tested and trusted treatment.
Side effects:
Although very uncommon, some men may notice changes in their sex lives, such as impotence or a decreased sex drive. Some men may have a decrease in the amount of semen released during sex. This does not appear to interfere with normal sexual function. In some men, such side effects disappear with time, even if Proscar is continued. In rare cases, some men have reported breast swelling and/or tenderness, or allergic reactions, such as lip swelling and rash. If you experience these or any other unusual symptoms, go and see your doctor promptly.
Caution:
Finasteride is for use by men only. Women should not ingest or handle the tablets, this is because Finasteride can affect the unborn male child. To this end, we would also recommend intercourse with condoms to prevent the passage of Finasteride in sperm, entering the womb etc.
See also:
Finasteride specifically blocks type-II 5-alpha reductase, which is the most common form and hence Finasteride is believed to be approximately 70% affective in its action. There is now also a new 5-alpha reductase inhibitor called Dutasteride, it blocks both Type-I and Type-II 5-alpha reductase and is believed to be about 90% effective.