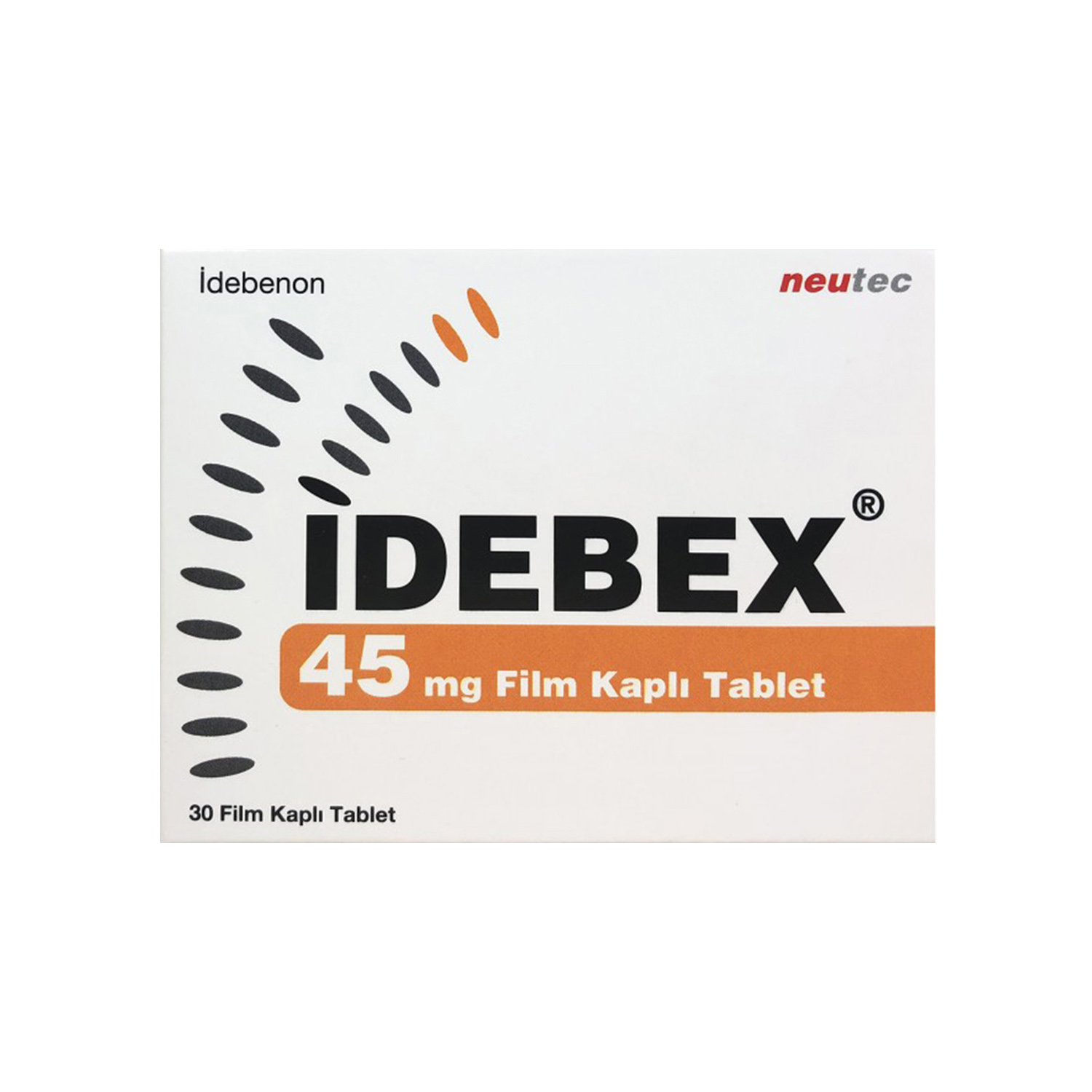 Idebenone (Idebex®)
Combining the power of energy supplements and cognitive enhancers with a potent antioxidant treatment, Idebenone offers a multitude of antiaging benefits.
Product Description
Idebenone -the antioxidant star
Combining the power of energy supplements and cognitive enhancers with a potent antioxidant treatment, Idebenone offers a multitude of antiaging benefits. If you are looking to increase brain power and combat free radical damage, Idebenone is a simple and effective treatment to rejuvenate both body and mind.
It's a fact that not all energy supplements and cognitive enhancers are alike. The source of Idebenone's potency to increase brain power and combat free radical damage (a key factor behind the aging process) lies in its 'life enhancing' ingredient. Idebenone is a synthetic variant of what's been hailed as 'one of life's essential bio chemicals – the antioxidant busting compound known as Coenzyme Q10, or CoQ10.
There is nothing synthetic about the CoQ10 found in our bodies. It occurs naturally and features in every single cell. CoQ10 is an energy powerhouse found in many of our vital organs, including the heart, liver, kidneys, pancreas -and the cells that make up our immune system.
CoQ10's antioxidant properties are vital to the body's health and well-being, as antioxidants play a vital role in fighting harmful free radical molecules. Free radicals damage cells and proteins –  and accelerate the whole aging process –  through the natural cycle known as oxidisation.
Looking at CoQ10's properties in more detail, we see it forms the antioxidant element of the lipid -or fatty -membranes that surround every cell. Delving even deeper, we find that CoQ10 is also a component of our cells' organelles (also termed 'little organs'), including mitochondria and microsomes.
Mitochondria is a power producer in cells, with CoQ10 acting as a major force behind a process known as the Electron Transport Chain (ETC) within the mitochondria. Underlying the importance of this process, most of the oxygen we breathe is actively used as part of the ETC to produce a fundamental energy source known as Adenosine triphosphate (ATP) bio-energy. It's ATP bio-energy that drives our body and mind, as the energy source for almost everything we do in our daily lives.
If we look at what happens to the ATP process when the body is affected by a major trauma, such as a heart attack or stroke, we see that free radicals begin to encroach and damage our cells, as mitochondrial oxygen levels decline. These same free radicals halt the fundamental ATP bio-energy process, and can cause irreparable cell damage, particularly to the brain and spinal chords (often within minutes).
Studies have shown how Idebenone antioxidant helps save the day by preventing free radical damage, while maintaining those all important ATP bio energy levels. In essence, Idebenone replicates the positives -CoQ10's power generating, anti-oxidising capabilities -without the negatives; namely the danger of CoQ10 producing free radicals during trauma and a lack of oxygen to the body.
Antiaging and wider benefits
The importance of Idebenone's CoQ10 and mitochondrial enhancing properties, in relation to antiaging, have been underlined in studies comparing the heart tissues of the young and old. While not surprisingly,  the younger hearts were found to have little or no mitochondrial dysfunction, older hearts were shown to have the exact opposite and severe dysfunction. This resonates with the fact that, as we grow older, our cells and organs become more and more susceptible to mitochondrial energy depletion.
The beauty of Idebenone lies in its ability to combat free radical damage, while boosting the body's natural energy production cycle. And, as we've discovered, Idebenone achieves this even under challenging and traumatic conditions, such as when the body has to battle with low oxygen levels.
Idebenone side effects are rare and typically minor. Gastrointestinal problems, dizziness, headaches, anxiety and sleep issues have been reported.
Idebenone's effectiveness as a cognitive enhancer have also been demonstrated in a variety of studies, using both animal and human brain cells. The drug was found to boost both brain structure and function, with the ability to enhance production of the key neurotransmitter, serotonin, which is linked with feelings of happiness and well-being.
From an antiaging treatment to an energy and cognitive power booster, and protector of vital organs, Idebenone's potential benefits run deep.
Frequently Asked Questions About Idebenone
Disclaimer: Please note that only your own physician can determine your precise needs, but in order to give you some information these answers are based upon the 'average person' and clinical / published results.
We initially were interested in the Memantine for an aging aunt and then saw the information on Idebenone. We obviously didn't read it carefully enough because we thought it was similar to CoQ10 only better; i.e., for use as a general health supplement. We ordered it for ourselves for use as such. However, now that it has arrived it appears to be intended for therapeutic use in the case of Alzheimer's and other cognitive disorders. We are ages 58 and 69 and may have our "senior moments" but we are both physically healthy and quite active and not quite in need of serious brain repair as yet! My own vitamin regimen includes B complex, C, E, Glucosamine, chromium picolinate, astaxanthin, and calcium w/ magnesium, boron, minerals. My husband's is similar. We're wondering if the Idebenone adds beneficially to our program.
Idebenone has all the qualities of CoQ10 but it also has more. As you have correctly stated it is used in parts of Europe and the Far East for the treatment of Alzheimer's disease. Idebenone is often added to general health supplement programs; dosages for 'supplementation' would be 30mg 2 or 3 times daily. Treatment dosages may need to higher. There are no specific, potent blood thinning properties of Idebenone (and certainly not the reverse), this article, may help you to understand more about the properties and actions of Idebenone.
Dosage
Take 30mg two or three times daily.
Side effects
Possible gastrointestinal disturbances, dizziness, headaches, anxiety and uneasiness and sleep alterations.
Caution
Although studies in animals have shown no harmful effects, this product should not be taken during the first three months of pregnancy and during nursing, only when absolutely necessary and always under a doctor's supervision.