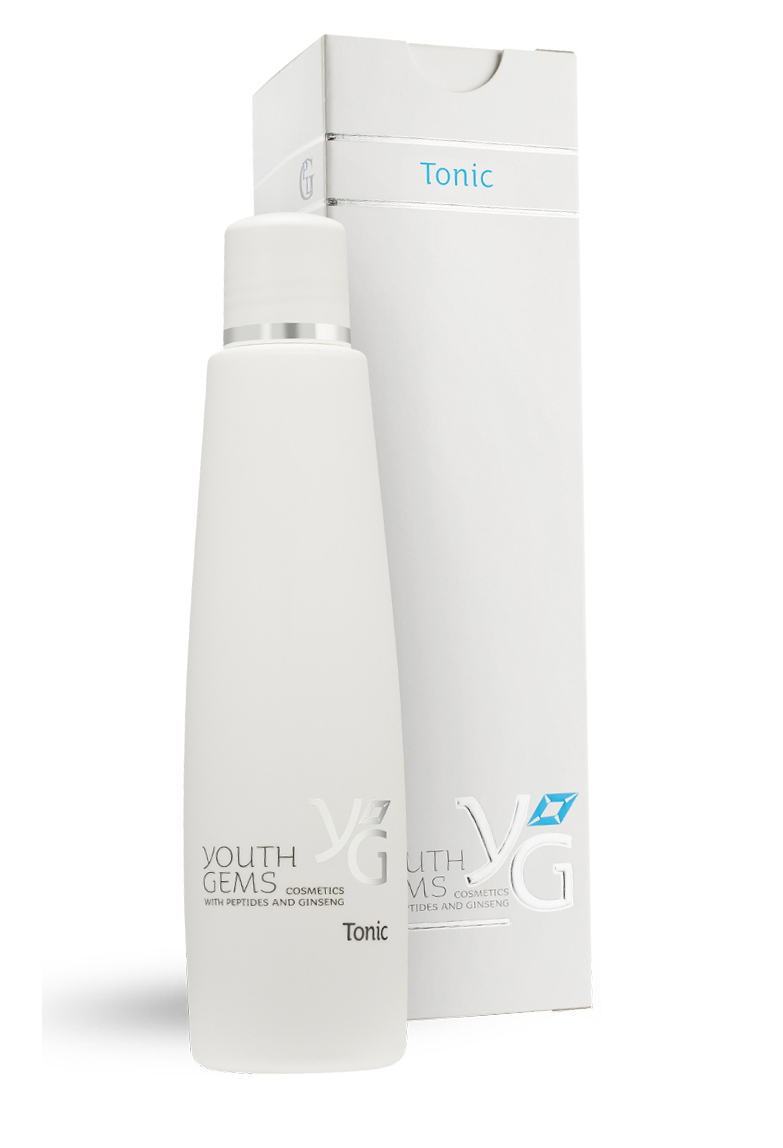 Youth Gems® (tonic)
A tonic skin cleanser and after-shave product that works to make the skin firmer as well as preventing spots and acne.
No animals are used in the testing of any Youth Gems products.
Product Description
Youth Gems®– the very latest peptide based topical skin -aesthetic medicine- preparations
Those who are already familiar with the work of Professor Vladimir Khavinson from the St. Petersburg Biogerontology Institute in Russia, will know how remarkable his work has been in the discovery of short-chain peptide bioregulators- located in food- that act as highly specific gene switches.
Now, four of these peptide bioregulators have been combined into topical skin preparations so that their performance can be brought to the field of aesthetic medicine; specifically the peptides in use are those from:
Cartilage
Blood vessels
Thymus gland
Pineal gland
What does each peptide provide for?
The beauty product line Youth Gems® contains these peptides and a ginseng extract called Neovitin®. They are a specially developed program of complex skin care designed for the face, neck, hands and the body. The line includes four unique active ingredients of short-chain peptides that have a directed tissue-specific action to improve all basic skin structures, plus a ginseng biomass extract with strong antioxidant and anti-inflammatory action and a number of other natural and synergistic ingredients.
The thymus gland peptide stimulates tissue regeneration and the synthesis of tissue-specific proteins. Thus, cells proliferative and metabolic activity is enhanced- accelerating the renewal of various cell tissues. It also has an anti-inflammatory action, improving the healing time of wounds, as well as antioxidant, immune stimulating and anti-stress actions.
The pineal gland peptide regulates metabolic processes and increases protein synthesis in skin cells. It also possesses potent antioxidant activity, normalizes the lipid peroxidation processes in skin cells that in turn promotes the elimination of negative influences on the skin from external factors, (i.e., air pollution, intense sunlight, intensive physical activities and traumas) as well as internal, (i.e., emotional stress) adverse factors. The end result is that metabolic processes in skin tissues become more active and their restoration process is accelerated.
The cartilaginous tissue peptide stimulates regeneration of fibroblasts and keratinocytes and interferes with destructive changes in collagen skin structure; it also strengthens collagen structure of elastic skin fibers and increases its elasticity
The vessel peptide regulates metabolic processes in the vascular wall, normalizes vascular tone, restores disturbed skin microcirculation, (even under the action of adverse environmental factors and emotional stress), strengthens and regulates the permeability of the vascular walls of skin vessels and improves skin turgor.
What else is included in Youth Gems® in addition to the four peptides?
In addition to the four peptides, the Youth Gems also contain an incredible array of beneficial natural agents- which just by themselves would make other antiaging creams jealous! The range includes:
The bio-antioxidant complex Neovitin® which is a complex of active ingredients isolated from ginseng. It participates in reducing the oxidation processes and therefore acts as a highly efficient antioxidant. Overall, it strengthens the walls of blood vessels, normalizes fat and protein metabolism in skin cells and optimizes the content of micro and macro elements. It is intended to help balance and correct the antioxidant skin status which is very important for the prevention of natural and premature aging of skin and protects against oxidizing stress caused by adverse ecological conditions, smoking and the administration of antibiotics, as well as intense physical and emotional loads, or staying inside air conditioned rooms.
Furthermore, the bio-complex of cellular membranes isolated from ginseng act to help maintain the integrity of the structures of the cell periphery, keeping its shape and protecting its protoplast. This helps to improve skin elasticity and suppleness making the skin soft and silky.
Olive oil consists mainly of oleic acid triglycerides with the remainder being glycerides of palmic and stearin acids, cholesterol, lecithin and phytosterol. It makes skin tender and velvety by regenerating and moisturizing irritated and dry skin.
Raisin-seed oil has anti-inflammatory, moisturizing and regenerative effects. It promotes the peeling-off of keratinized cells; accordingly it considerably improves skin tone and structure. It also helps to regulate sebaceous glands activity and prevent the dilation of pores.
Argon oil, (obtained by a cold pressing method) is one of the rarest and most expensive vegetable oils in the world. Argon oil contains a lot of vitamin E and vitamin F (non-saturated fatty acids). Argon oil is suitable for any type of skin and is especially effective for treatment of age-related changes such as skin wrinkles, flabbiness or dryness. Its oil is quickly absorbed and gets into the deep layers of the epidermis, improving derma cell condition and promoting the division of healthy cells. It also aids moisturization and nourishment whilst softening the skin, making it elastic and supple.
Soya oil is an important source of lecithin, with linoleic acid, oleine acid, palmitin and stearin acids. As with all oils rich with irreplaceable fat acids, lecithin and phytosterol, it restores the epidermal barrier and water-retaining ability of the skin.
Jojoba oil is a mix of non-saturated ether fat that possesses high penetrating ability and is deeply absorbed into the skin providing for the regeneration and protection of deep epidermis layers. Jojoba oil promotes moisture preservation in skin tissues, eliminates peeling and irritation and heals cracks.
Bisabolol is an extract from chamomile and lavender essence possessing anti-inflammatory and soothing actions.
Peony extract is an essence which includes salicylic and benzoic acids, tannins, glycosides, iron, chrome, copper, sodium, potassium and other microelements. It is used in beauty products in order to restore epidermis functions.
Sodium hyaluronate is a derivative of hyaluronic acids that can normalize water balance. It is well tolerated by the skin and is used mainly to correct hyaluronic acid deficiency whose biological synthesis may be disturbed due to aging.
Starch synthesized from different plants improves complexion and skin functions due to blood microcirculation improvement, the skin gains a pleasant glossy shine.
Green tea extract is a natural antioxidant with a high content of polyphenols, its activity as an antioxidant is several times higher than the antioxidant activity of vitamin E. Tea polyphenols also have anti-inflammatory and antibacterial effects and they promote penetration of biologically active substances into the skin. Caffeine, being a part of the extract, promotes improvement of blood microcirculation and skin nutrition, reducing edema. Tannins also help to make skin elastic and the extract is rich in vitamins of C, K and B.
Glycerine is a component of vegetable fats that absorb moisture from the air and keeps it on the skin, making it soft and elastic.
Xanthan gum is emulsifier and thickener.
Cocoa oil contains stearin, palmitinic, oleic and linoleic acids. It has healing and toning effects.
Carrageenan from seaweed is known to reduce allergic reactions.
Glucose actively participates in salt-water and carbohydrate metabolism, providing the skin cells with energy.
An active yeast complex promotes the prevention of baggy skin and enhances blood circulation to the capillaries located directly under the skin. It increases the elasticity of skin blood vessels and stimulates the production of vascular endothelial growth factor- reducing black eye-rims and edema below the eyes.
Fresh water sponge extract possesses anti-inflammatory, anti-edematous and transdermal actions that considerably strengthen the activity of the natural ingredients within the Youth Gems®.
Sorbitol is found in rowanberry juice and is used as a moisturizing component. It influences serum texture, making it soft, plastic and velvet like.
Liposomes are hollow microscopic spheres that contain a stable form of vitamin C and rutin which slow down the skin aging process. Liposomes deliver active substances deep within the epidermis layers.
Panthenol (vitamin B5) possesses healing, moisturizing and smoothing actions.
Vitamin E is a natural antioxidant that protects the skin against various oxidizing changes. It participates in biosynthesis of proteins, cells respiration and in other major processes of cellular metabolism and protects skin cells against external adverse atmospheric influences.
Sweet almond extract possesses smoothing and remodelling actions. It forms a continuous, elastic and smooth film on the skin, making it elastic. It also soothes skin and reduces wrinkles.
Winter bloom has a cleansing effect; it soothes superficial skin layers and promotes the shrinkage of pores.
Meadow foam oil possesses strong anti-oxidizing action; it moisturizes the skin, creating an invisible protective film on the skin surface, helping to reduce moisture evaporation, thereby improving the skin structure.
hands. Its unique formula provides resilience against skin aging, helping to improve blood supply for a youthful glow and to create a more elastic, compliant skin condition.
Serum: The serum is designed to be used sparingly against the most noticeable skin aging effects on the face and neck, i.e. applied directly to the fine lines surrounding the eyes and the mouth and chin etc. Regular use will plump up those affected zones and aid in a fuller, more youthful appearance.
Tonic: This cleanser can be used to help any area become more firm and taught and may be splashed on as required; in particular it makes an excellent after-shave product and helps to prevent irregularities such as acne.
All of the Youth Gems® should be applied onto clean, dry skin- avoiding the eyes; makeup can be applied after absorption- if required.
Combination therapy
Here is a daily home care program for any type of skin at any age:
Day care:
After showering and drying, distribute the Youth Gems® body milk onto hands, legs and arms as necessary with a gentle massaging movement.
Cleanse the face, neck and decollate with the Youth Gems® tonic, allow it to dry and then place a thin layer of Youth Gems® day cream onto the face- avoiding the eyes.
Evening care:
After cleansing the face with the Youth Gems® tonic, apply 3 or 4 drops of Youth Gems® serum onto the face and 2 to 3 drops onto the neck and decollate, distribute evenly with gentle movements. Avoid the eyes.
Conclusion
Some of the benefits provided by the peptide bioregulators in clinical trials have been almost miraculous; now for the first time that research is being made available for the support and improvement of skin, to enable the best possible outcomes at any age; accordingly they have been given the right name of Youth Gems®!
Action:
Youth Gems® tonic is a light liquid with a pleasant smell that effectively and carefully cleanses and soothes facial skin, the skin of neck and decollate against any pollution and make-up, without drying up it. It actively moisturizes and freshens the skin, making it bright looking again, plus more elastic and silky. It possesses anti-inflammatory action and helps to prevent acne. Furthermore, it has expressed rejuvenating effects thanks to action of thymus, vessels, cartilage and pineal peptides, plus the bio-antioxidant complex Neovitin®.
Youth Gems® tonic
Ingredients:
Aqua, Propylene Glycol, Glycerin, Panax Ginseng Cell Culture Extract (Neovitin®), Hamamelis Virginiana Water, Phenoxyethanol, Ethylhexylglycerin, Panthenol, PEG-75 Meadowfoam Oil, PEG-40 Hydrogenated Castor Oil, Benzisothiazolinone, Methylisothiazolinone, Parfum, Thymus, Cartilage, Vessels and Pineal Gland Peptide Complexes, Hexyl Cinnamal.