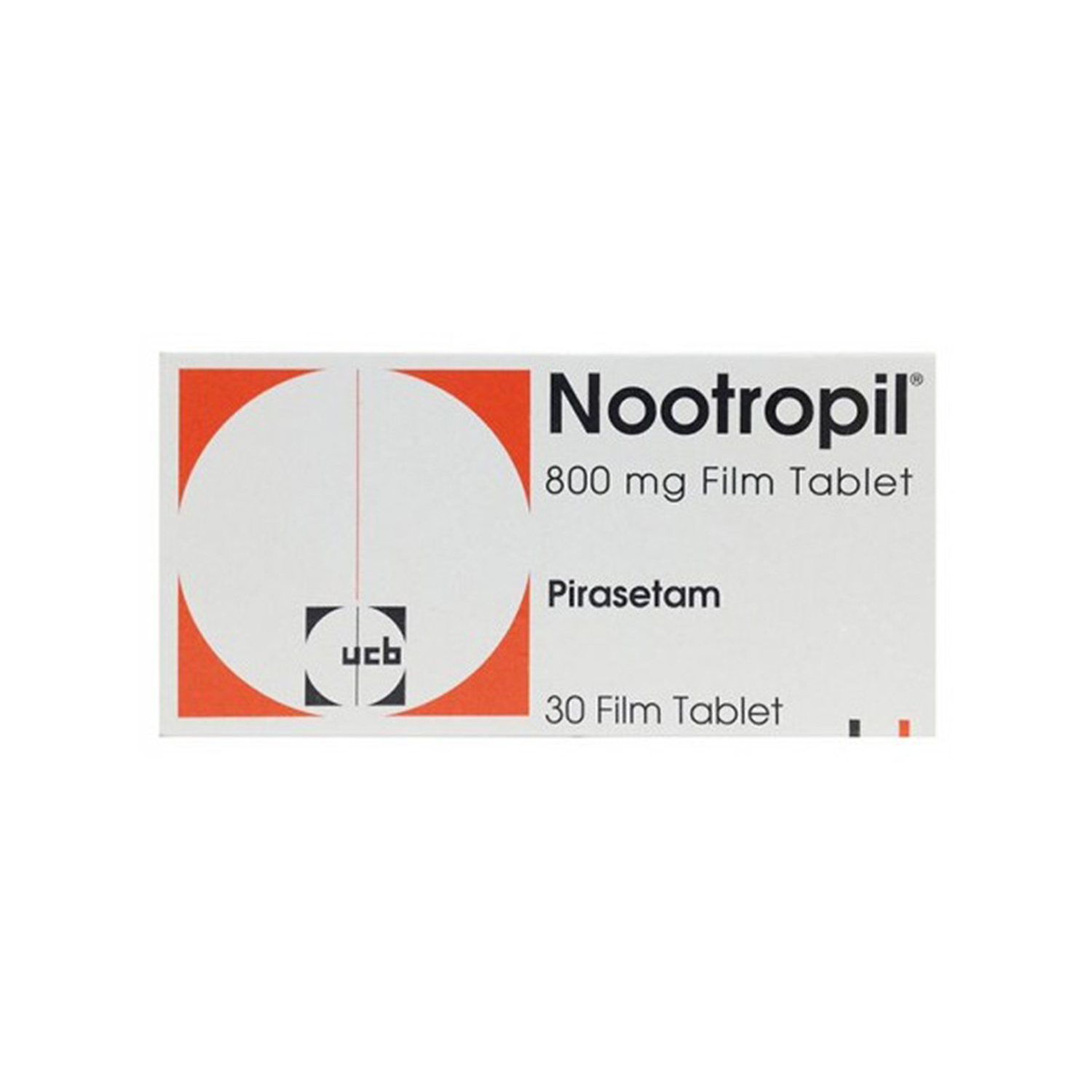 Piracetam (Nootropil® tablets)
(US) $12.49
30 x 800mg Film Tablets
The original Nootropic or Smart drug designed to improve memory, enhance your brain functions and stimulate the central nervous system.
Piracetam helps to slow down 'senile involution', dementia and Alzheimer's disease.
Improves memory consolidation and recall in elderly suffering from 'age-associated memory impairment'.
Improve recovery from strokes, particularly post stroke speech impairment.
Product Description
Chemical:
Piracetam, to be taken by mouth
Each tablet contains: Main ingredient: Piracetam (I.N.N) 800 mg. Excipients: Polyethylene glycol 6000, colloidal silica, magnesium stearate, hypromellose (E464), orange yellow, S (E 110), titanium dioxide (E 171), Polyethylene glycol 400, talc.
ACTIVITY:
Piracetam acts on the central nervous system by means of different mechanisms. It modulates cerebral neurotransmission, is a neuronal protector improving metabolic conditions at the cell level and, although not a vasodilator, improves microcirculation on account of its haemorrheological properties.
INDICATIONS:
Attention and memory disorders, problems affecting day-to-day activity and adaptation to the environment accompanying states of mental deterioration owing to:
Degenerative vascular cerebral pathology related to age.
Ischemic cerebrovascular pathology.
Cortical myoclonias.
CONTRAINDICATIONS:
Nootropil should not be taken by patients with serious renal insufficiency (creatinine clearance lower than 20 ml/min).
PRECAUTIONS:
Since Piracetam is eliminated in urine, patients with renal insufficiency should take this drug with caution.
Abrupt suspension of treatment should be avoided, since this can cause a myoclonic or general crisis in certain myoclonic patients.
INTERACTIONS:
A single case has been reported in which the concomitant use of Piracetam and thyroid hormone extracts (T3 + T4) has produced confusion, irritability and sleeping disorders. Its interaction with other drugs has not been described.
WARNING:
Pregnancy and breast-feeding
The safety of using this product during pregnancy has not been sufficiently established. Although studies in animals have not shown teratogenic effects or effects on fertility, using this drug during pregnancy is not recommended except under a doctor's strict supervision and only when the benefits justify possible risks. Likewise, breast-feeding is not recommended.
Effects on driving
Unknown.
Warning concerning excipients
This pharmaceutical product contains Orange Yellow S as an excipient. This may cause allergic reactions, including asthma, especially in patients allergic to acetylsalicylic acid.
The daily dosage (to be broken down into 2 or 3 doses) and length of treatment are to be established by the doctor, depending on the state and clinical evolution of the patient.
States of mental deterioration
Administer a daily dosage of 4.8 g of Piracetam (6 tablets per day) for the first few weeks. Then lower the daily dosage to 2.4 g (3 tablets per day).
Cortical Myoclonias
Because the therapeutic response is quite variable, the dosage should be adjusted to the patient's own needs. A recommended protocol would be to begin treatment with 7.2 g of Piracetam daily, increasing this dosage by 4.8 g per day, every 3 or 4 four days until obtaining a satisfactory response or a maximum dose of 24 g daily. Subsequently and depending on the results obtained, the dosage of other anti-myoclonic treatments should be reduced if possible. When adjusting the posology, follow your doctor's instructions.
Once treatment with Piracetam has begun, it should be continued for as long as the cerebral pathology persists. Nonetheless, every 6 months an effort should be made to reduce or stop treatment. To prevent the sudden reappearance of the disorder, withdrawal should be carried out by reducing the dosage by ½ g every 2 days.
OVERDOSE:
Piracetam is non-toxic even in high doses. Massive accidental overdose can be treated either orally or intravenously with forced diuresis or dialysis in the case of renal insufficiency.
In the event of overdose or accidental swallowing, consult a doctor.
ADVERSE REACTIONS:
Cases have been reported of nervousness, irritability, insomnia, anxiety, trembling and agitation and, in certain patients, fatigue and drowsiness. Occasional dryness of the mouth, increased libido, weight gain and hypersensitive skin reactions. These side effects are generally shown in elderly patients. In the majority of cases, such symptoms subside with a reduced dosage. If any other adverse reaction not described in this leaflet should occur, consult your doctor or chemist.
This drug should not be used once the expiry date shown on the box has elapsed.
KEEP ALL PHARMACEUTICAL PRODUCTS OUT OF THE REACH OF CHILDREN.
MADE IN EU